Corn Insect Pest Update
Find this article at:
go.ncsu.edu/readext?299026
Most of our corn is finally in the ground and these warm conditions have given our seedlings a boost to outgrow some of the problems that we can sometimes see from the soil insect pest complex. Here are some thoughts based on calls and questions I've been getting:
Seed treatment rates
Since commercial offerings are generally Poncho or Cruiser 500 and 1250, we should experience fewer issues from pests like wireworms, which are better controlled with the 500 rate compared to the 250 rate. Growers that contend with billbugs know that the 1250 rate is necessary. However, in situations requiring repla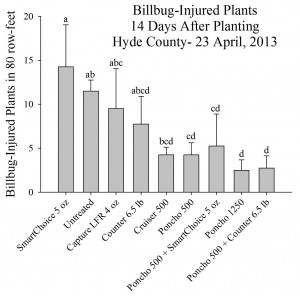 nting going forward, I am recommending the 500 rate even in billbug areas. Our seedlings have good growth potential right now and billbugs are typically more of a problem when adults are emerging from overwintering (in April and early May). Risk decreases over time. If, for whatever reason, you've experienced injury from billbugs, there is not a whole lot you can do to rescue things. Foliar sprays are pretty ineffective. High rates of seed treatment, combined with cultural tactics (weed control, rotating away from corn or last year's adjacent corn, and use of starter fertilizer), are the best bet to manage billbugs. Finally, if you are risk averse and replanting, you can add in a granular insecticide, like Counter, in-furrow to provide billbug protection in addition to a 500 rate of seed treatment.
No-till corn
No-till corn is at greater risk for seedling pests and these fields should be scrutinized. This is because the soil is cooler (plants grow a bit slower compared to conventional till), there is often higher organic matter in the soil (providing food to sustain pests like wireworms and grubs), soil moisture is often higher compared to conventional till, and the residue provides a place of refuge for insect pests. For the second year in a row, I've visited no-till fields where slugs harbor inside of furrows that did not close during the day. This is a nice, dark, and cool place for a slug to be during the day. They then emerge during the night and can feed on the seedlings. No-till fields are also at greater risk for cutworms.
Stink bugs
I predict that stink bugs will be less of a problem in corn this year. Like last year, we have a good crop of winter weeds that will sustain stink bugs and cause problems in cotton and soybeans. However, a lot of our corn is on the later side. In the eastern part of our state, brown stink bug undergoes a generation in wheat and then moves into adjacent corn fields during the days following harvest. The extent of injury to the corn depends on when the wheat is harvested, what life stage the majority of stink bugs are in during wheat harvest (are there a lot of nymphs or adults?), and what stage the corn is in. For example, wheat planted in November generally produces more stink bugs that can move into corn compared to wheat planted in December. In general, the worst situation is where corn pushing out an ear (just prior to tasseling) and adjacent wheat is harvested harboring a lot of adults. These adults can move into adjacent corn, especially on field edges, and deform the ear. Nymphs can walk from harvested wheat into adjacent corn fields, but will generally feed at the base of the plant and not up the stalk, where the ear is pushing out. Most of our corn will likely be too small to cause this problem.
Finally, stink bugs don't reproduce much in corn and use it as a "bridge" to go to other weeds and crops that are more attractive places to feed. Last year, we saw very few problems from stink bugs in corn and I'm hoping that this year will be similar.