Resistant Fall Armyworm Has Shown Up Early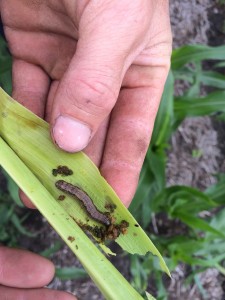 Last year I reported that Cry1F resistant fall armyworm was present in North Carolina. These insects can easily survive on corn with the Herculex, and Optimum Intrasect traits, as well as WideStrike cotton (all contain Cry1F, highly toxic to fall armyworm- unless they are resistant). It is thought that fall armyworm is a migratory pest in North Carolina and that they cannot overwinter in the state- and we have had a hard winter! However, I recovered large fall armyworm larvae from Herculex-traited corn whorls in Hyde County on May 29 this year. I was speaking at a cotton production meeting this February with snow falling on the ground a few miles from the site where I collected these larvae; to me, it seems unlikely that they survived the winter here. Generally we do not experience fall armyworm pressure until late-August unless a tropical storm blows the moths up earlier. Since we have not had this weather yet this year, I'll be honest that I am puzzled how they got here. Fall armyworm experts that I contacted are puzzled as well.
What does this mean for us going forward? To my knowledge, this resistance and early pressure is a new phenomenon. I am worried that 2014 may be a heavy worm year. I would like to urge county agents, consultants and growers to be vigilant in corn and cotton containing Cry1F. These early populations will reproduce and re-infest in our state. The densities that I recovered this May were very low. However, these populations will cycle through multiple generations and could blow up on us this summer. I will be closely monitoring the situation. Please report any suspicious fall amryworm activity to me.