Blog Covering IPM and Ecology of Greenhouse, Nursery, and Landscape Pests
If you like NC Pest News you might like the ecoipm blog. I use the blog to post information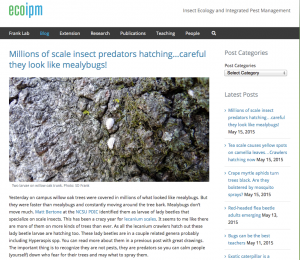 about pests that are active in greenhouses, nurseries, landscapes and to alert you to the critters coming into the PDIC. Just in the last week I have posted information on tea scale, scale insect predators, spittlebugs, crape myrtle aphids, flea beetles, and more. I also use the blog to announce extension and outreach activities like the Pollinator Workshop we are running with the JC Raulston Arboretum this weekend. I also post research findings, links to new papers, interesting bits of natural history, and picture.
That's the blog. The website overall has information about our research program, all my students, postdocs, and staff, extension material, and other good stuff. You can subscribe to the blog by clicking subscribe on the home page. You can also follow me on Twitter @ornapests and @ecoipm.
Was the information on this page helpful?
This page can also be accessed from:
go.ncsu.edu/readext?357396