Apple Pest Management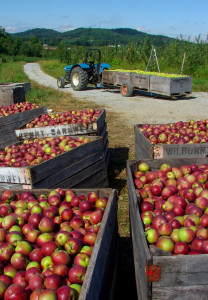 Commercial apple production in the Southeast is concentrated in the Appalachian mountain regions of Georgia, North Carolina, South Carolina, and Tennessee. More than 60 percent of the approximately 10,000 acres in the area is located in North Carolina, the country's seventh-largest apple producing state.
The industry is supported by a team of research and extension personnel at North Carolina State University, with the goal of helping growers produce safe and high quality fruit, develop and implement modern horticultural and pest management programs, and prepare for anticipated changes in regulatory and marketing programs.
The links below provide an overview of the pest complex affecting southeastern apples, weekly updates of pest populations during the growing season, and resources useful to anyone growing commercial apples in the region.
---
Current Western NC Orchard Pest Populations
Orchard Management Guide for Commercial Apples in the Southeast
News, Resources, and Fact Sheets
Brown Marmorated Stink Bug in NC
For more information, contact your local Cooperative Extension Center in North Carolina or in your own state.
You will need the free Adobe Reader program to view Adobe PDF formatted documents.
Was the information on this page helpful?