We track local insect populations throughout the growing season using a system of traps, temperature-recording devices, and degree-day models. Traps and weather data are checked weekly, with results updated by Tuesday afternoon from April through September. Learn more about southeastern apple pests at the Apple Pest Management page.
---
Weekly summary
May 4, 2016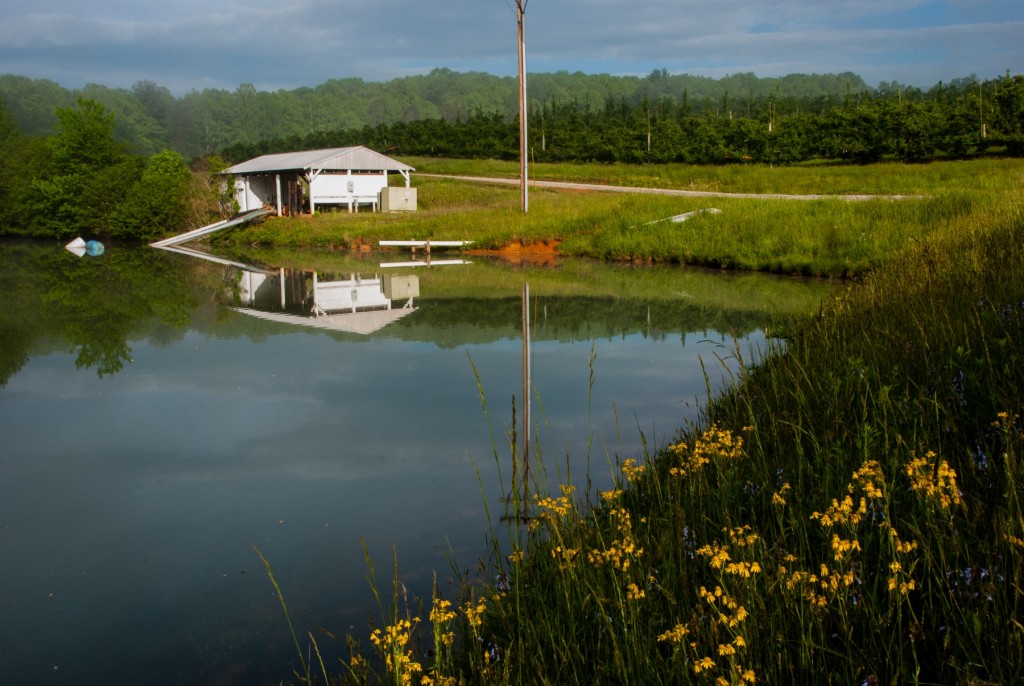 Based on degree-day accumulations and trap captures, insect phenology is about a week ahead of most years.  The first flight of oriental fruit moth is on the decline, and the optimum timing for first generation codling moth sprays are approaching.
Based on temperatures from several weather stations in Cleveland County and the Morganton area, the codling moth degree-day model has accumulated about 300 DD since biofix (April 10), which coincides with initial egg hatch of the first generation.  In Henderson County, about 200 DD have accumulated since biofix (April 15), so first generation codling moth egg hatch is predicted to begin next week.  Cool temperatures over the next few days will suppress codling moth activity, but expect activity to pick up over the weekend.
In orchards with a history of codling moth problems, the first of two or three insecticide sprays is recommended at 250 DD after biofix, with subsequent sprays made at about 14-day intervals.
In orchards with low populations of codling moth, sprays are not recommended until about 350 DD have accumulated, which is expected to occur late next week in Henderson County .
In orchards using mating disruption, no sprays are recommended until about third cover, which will target both tufted apple bud moth and late-emerging codling moth
Archived Pest Reports for 2016
---
2016 Average Weekly Trap Captures*
HENDERSON COUNTY

Insects per trap

Apr 18


Apr 26


May 2


1.0

7.0

7.0

15.0

5.0

11.5

0.0

11.0

20.0

2.0

0.0

1.0

–

0.0

0.0

–

0.0

0.0

–

–

set

–

0.0

1.0

0.0

4.0

1.0

–

0.0

3.0

–

0.0

0.0

24.0

94.0

96.0

0.0

0.0

0.0
*Note that averages presented here are intended only to illustrate the timing of insect emergence and fluctuations in population activity, and not as general indicators of population levels. Some orchards included in these averages have significantly higher or lower populations than most commercial orchards in the area, resulting in averages that are sometimes skewed from what is typical. The only way to have an accurate assessment of an individual orchard's populations is to set up traps in that orchard.
---
2016 Accumulated Degree Days



Henderson County

 Biofix

Apr 18


Apr 26


May 2


Codling Moth

April 15


27

113

194

Oriental Fruit Moth

March 21


239

359

466

Tufted Apple Bud Moth

April 20


–

90

196
About degree-day models:The degree day (DD) models predict adult emergence and egg hatch of each generation. They do not predict the intensity of populations, which can be assessed by using pheromone traps. Hence, the models should be used to help gauge the time period when control is most likely needed, and pheromone traps provide information on the need for and frequency of insecticide applications. For full details, read "IPM Practices for Selected Pests" in the

Orchard Management Guide

.
CODLING MOTH:
1st generation: Egg hatch begins at about 350 DD after biofix and is completed by 1050 DD. The most critical period for insecticidal control is from 350 to about 750 DD.

2nd generation: Egg hatch of the second generation can extend from about 1300 to 2600 DD after biofix, but the most critical period for insecticidal control is 1400 to about 2500 DD.

3rd generation: Adults begin to emerge at about 2500 DD after biofix, but the model is less accurate in predicting late-season populations.
ORIENTAL FRUIT MOTH:
1st generation: Only one insecticide application between 400 and 500 degree days is usually necessary, as 1st generation egg-laying is usually low on apple.

2nd generation: Effective 1st-generation control may eliminate the need for 2nd-generation control. If trap captures remain high, insecticides may be needed around 1100 to 1400 DD.

3rd generation: Insecticide may be needed at 2200 DD after biofix.

4th generation: Overlapping generations late in the season make it difficult to predict when 4th-generation egg hatch begins, but continuous egg-laying can occur from August through October. Use traps to determine the need for further insecticide applications.
 TUFTED APPLE BUD MOTH:
1st generation: One well-timed insecticide application between 800 and 1200 DD after biofix will often eliminate the need for further control of TABM.

2nd generation: Only if trap captures exceed 25 moths per trap by 2600 DD is an insecticide application recommended. NOTE: Insecticides targeting 2nd generation TABM are usually not necessary if 1st generation populations were successfully controlled.
---
2016 Pest Trends (click to enlarge)