7th Annual Pollinator Day Celebration!
Address for the event: 480 Hillsboro St. Pittsboro, NC 27312.
See a slideshow of photos from our last Pollinator Day!
Educational Programs
You can hear presentations about beekeeping – how to get started, equipment needs, management tips – from expert beekeepers. Watch an expert beekeeper work an actual hive inside a bee cage (bees inside, participants outside!) and see honey bees up close and personal. Learn about what to plant in your garden to attract butterflies and bees and other pollinators. Sample delicious baked goods made with local honey and get recipes for how to cook with honey.
Educational Program Schedule:
(Programs will be on The Lawn at Chatham Mills in front of Chatham Marketplace in Pittsboro)
9:00-9:30 am: Beekeeping Demo in Bee Cage – Don Hopkins, NCDA&CS Apiary Services
9:30-10:00 am: Basics of Beekeeping – Ray Wise, Chatham County Beekeepers' Association
10:00-10:30 am: Plants for Pollinators (Butterflies, Bees, and Others) – Debbie Roos, Chatham County Cooperative Extension
10:30-11:00 am: Mead Making Demo – Ben and Becky Starr, Starrlight Mead
11:00-11:30 am: Pollinator Garden Tour – Debbie Roos, Chatham County Cooperative Extension
11:30 am-12:00 pm: Beekeeping Demo in Bee Cage – Don Hopkins, NCDA&CS Apiary Services
12:00-12:30: Basics of Beekeeping – Judy Pick, Chatham County Beekeepers' Association
12:30-1:00 pm: Ideas for Cooking with Honey – Pat Weisbrodt, Chatham County Beekeepers' Association
Show & Tell
From 9:00 am-1:00 pm, feel free to visit the display tables and talk with our Chatham County beekeepers and learn all about what it takes to produce the nutritious and delicious local honey available at Chatham Marketplace. Sample different honeys and other products from the hive, handle beekeeping equipment, learn about alternative pollinators, watch new bees emerging from honeycomb, and get your burning beekeeping questions answered.
Pick up some educational literature to further your knowledge about honey bees, beekeeping, pollinators, and pollinator conservation. Learn about the Chatham County Beekeepers' Association and how you can get involved with this fabulously friendly group through monthly meetings and field days and even an email listserv – we welcome members of all skill levels: from never-tried-it (but always wanted to) to beginner to experienced!
Pollinator Garden Tour
At 11:00 am, tour Cooperative Extension's Pollinator Garden at Chatham Mills and learn how to attract and protect pollinators. The garden contains over 145 different species of perennials, most of them native to the piedmont of North Carolina. The garden provides three seasons of forage for bees and other pollinators.
Plant Give-Aways!
Mellow Marsh Farm and Cure Nursery donated several perennials and shrubs that will be given away during the day, and Niche Gardens Nursery and Big Bloomers Flower Farm donated gift certificates and we will be drawing winners for those throughout the day. Look for the sign under the big tent to enter these drawings. You must be present to win.
Mead Tasting and Mead Making Demonstration
Ever tried honey wine? Co-sponsors Starrlight Mead will be out on the lawn with us doing a mead tasting throughout the day and a mead making demonstration at 10:30 am. Starrlight Mead has also donated a gift certificate for a Mead Tasting for 4 people so folks can enter for a chance to win. Visitors can also visit the meadery where they produce their award-winning honey wines on the Chatham Mills property!
Kids' Activities
Visit our kids' tent with lots of activities for kids including a plant-a-pollinator-plant, beeswax candle making, scavenger hunt, face painting, balloon pollinators, temporary tattoos, Chatham County pollinator coloring books, and more! Watch "Bee TV" – park yourself in front of an observation hive and watch the worker bees tending to the queen. It's mesmerizing! Talk to some of our young beekeepers who will be on hand to share their love of beekeeping. Kids can try on a beekeeper's suit for a great photo opp!
Thanks to Country Farm & Home Supply in Pittsboro for donating supplies for our kids' pollinator planting activity!
While enjoying Pollinator Day, stop by the Chatham Mills Farmers' Market which will be on the lawn with us! Look for the bee stickers on items sold by the vendors that rely on bees for pollination! The market is open on Saturdays from 8:00 am-1:00 pm and offers fresh produce, meats, dairy, eggs, baked goods, soaps, plants, flowers, and much more!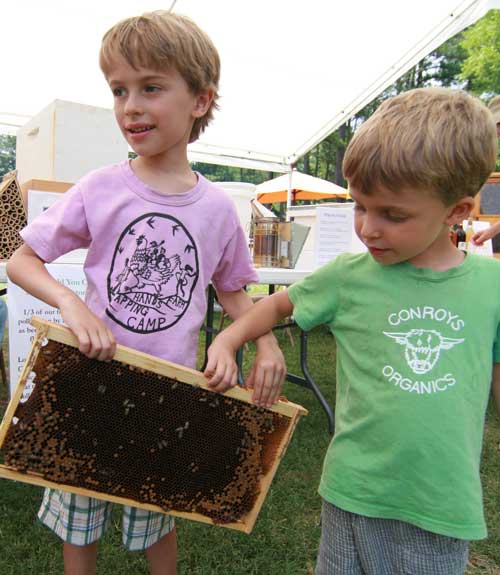 Kids get a chance to see bees up close!
The newly emerged bees on this frame are not capable of stinging.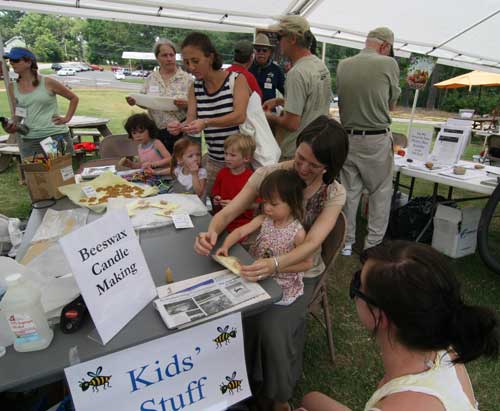 All Pollinator Week Events are free and open to the public. This event will be held rain or shine. Click here for directions.
For more information about pollinator conservation, visit Cooperative Extension's Pollinator Conservation website at www.protectpollinators.org.
Visit the Chatham County Beekeepers' Association website for more information about local beekeeping. For more information about this event, contact Debbie Roos at 919-542-8202.
North Carolina State University and North Carolina A&T State University commit themselves to positive action to secure equal opportunity regardless of race, color, religion, creed, national origin, sex, age, disability, or veteran's status. In addition, the two Universities welcome all persons without regard to sexual orientation. North Carolina State University, North Carolina A&T State University, U.S. Department of Agriculture, and local governments cooperating.
Persons with disabilities and persons with limited English proficiency may request accommodations to participate by contacting Sam Groce, County Extension Director at 919-542-8202 or in person at the County Extension Office at least 14 days prior to the event.
Page Last Updated: 4 years ago
Was the information on this page helpful?