Benefits of Applying Insecticides with Drip Chemigation
Find this page at:
go.ncsu.edu/readext?675711
en Español

El inglés es el idioma de control de esta página. En la medida en que haya algún conflicto entre la traducción al inglés y la traducción, el inglés prevalece.

Al hacer clic en el enlace de traducción se activa un servicio de traducción gratuito para convertir la página al español. Al igual que con cualquier traducción por Internet, la conversión no es sensible al contexto y puede que no traduzca el texto en su significado original. NC State Extension no garantiza la exactitud del texto traducido. Por favor, tenga en cuenta que algunas aplicaciones y/o servicios pueden no funcionar como se espera cuando se traducen.

English is the controlling language of this page. To the extent there is any conflict between the English text and the translation, English controls.

Clicking on the translation link activates a free translation service to convert the page to Spanish. As with any Internet translation, the conversion is not context-sensitive and may not translate the text to its original meaning. NC State Extension does not guarantee the accuracy of the translated text. Please note that some applications and/or services may not function as expected when translated.

Collapse ▲
Dr. Tom Bilbo, Steve Schoof, and Dr. Jim Walgenbach
---
---
Background
Pesticides are a key component of commercial vegetable production in the United States, especially in fresh market production where the tolerance for damaged and unmarketable fruit is very low. The traditional method for applying insecticides to manage insect pests is foliar spraying using high pressure boom sprayers. Chemigation is the application of agrochemicals (pesticides and fertilizers) to crops through drip irrigation systems.
Despite the overall success of foliar applications for managing insect pests, there are several drawbacks including risks to human and environmental health. Drift associated with spraying pesticides is also a common source of conflict in regions where urban and agricultural areas interface. These problems can be reduced or eliminated by switching to drip chemigation. The purpose of this publication is to inform growers of chemigation, highlight some of its important benefits (including efficacy, production costs, and farmworker, consumer, and environmental health), and demonstrate how to use a chemigation system on your farm.
---
Advantages and Disadvantages to Using Chemigation
Insecticide Fate: Systemic insecticides applied through drip irrigation are delivered directly to the root zone of plants, where they are taken up by the roots and translocated to various tissues. Since insecticide residues are in the plant's vascular system, as opposed to on plant surfaces with foliar sprays, the insects affected are those that feed directly on the plant itself. It is therefore considered safer to non-target organisms present in agricultural fields, such as natural predators of plant pests. These differences in how insecticides are applied and where they end up in the plant and surrounding environment are the basis for chemigation's benefits to farmworkers, consumers, and environmental health.
Insecticide Choice: Insecticides used in chemigation must have systemic activity so that they can be absorbed by root systems and moved throughout the plant. These insecticides tend to be more selective to targeted insect pests (with less toxicity to non-target insects and humans) compared to non-systemic insecticides that rely largely on contact activity. Insecticide classes used in chemigation include neonicotinoids, diamides, and oxadiazines (indoxacarb). Insecticide classes that cannot be used (with some exceptions) include many of the older broad-spectrum carbamates, pyrethroids, and organophosphates. The benefits of chemigation discussed here include insecticides applied through drip irrigation and not through overhead sprinkler irrigation, which can still result in several of the drawbacks common to foliar applications.
| | |
| --- | --- |
| Advantages | Disadvantages |
| Insecticides are more selective to target pests with less toxicity to non-target organisms, including humans, natural enemies, and non-pest insects in agricultural fields. | Insecticides used in drip chemigation are generally newer products, and hence more expensive. However, price will decline as patents expire. |
| Elimination of spray drift, which reduces exposure to farmworkers, adjacent properties, non-target organisms, and the environment. | Some insecticides can be present in nectar and pollen, exposing them to pollinators. (Studies in cucurbits have shown accumulation in nectar and pollen are similar with chemigation and foliar application – see Dively and Kamel 2012.) |
| Chemical input is low, as drip chemigated insecticides often provide control for months. Less overall amount of insecticide is applied, reducing amount introduced into a field. | |
| Insecticide residues are contained within plants or in subsurface soil near the root system, with low potential for runoff into surface waters or leaching into groundwater. | |
---
Pest Control Attributes of Drip Chemigation
Pest management efficacy is comparable, or better, than foliar treatments. Longer residual activity results in fewer insecticide applications required.
Cost of insecticide inputs and net profits are comparable, or better, than foliar treatments.
Very few days lost to re-entry intervals (REI) and pre-harvest intervals (PHI), permitting greater flexibility scheduling field labor activities.
Increased flexibility in timing of insecticide applications. Chemigation is not influenced by wind, muddy fields, or other environmental factors.
Increased predictability and regularity of insecticide applications. Chemigated insecticides become active within a few days and still act quickly enough to utilize action thresholds. (Van Timmeren et al. 2011).
Without the need to apply insecticides by driving heavy equipment around a field, soil compaction is reduced, less fuel is required for operating equipment, and general wear and tear on equipment is reduced.
Currently available insecticides for chemigation have been shown to manage stink bugs, caterpillars, whiteflies, aphids, beetles, leafminers and foliar infestations of thrips. Currently, there are no pesticides used in drip chemigation to manage spider mites, but biocontrol using the predatory mite P. persimilis can be highly effective. Management of cabbage looper may require an additional insecticide application.
For those not familiar with drip irrigation systems, there is a cost and learning investment required.
---
How to Use & Safety
Vegetable crops already grown on plastic mulch with drip irrigation can be easily adapted to utilize chemigation. This is especially true for growers injecting fertilizers through drip irrigation (drip fertigation), because the same equipment and concepts are used. However, the regulations required for chemigation of pesticides versus fertilizers is more stringent to avoid contamination of water resources. The most important requirement for injecting pesticides into drip irrigation systems is for a double check valve system between the point of pesticide injection and the water resource. These water sources include private ponds, public water systems, streams, lakes, and canals. The figure below illustrates the requirements for safely using chemigation. For more information refer to the N.C. Department of Agriculture and Consumer Services' publication on chemigation and fertigation:
NCDA&CS Chemigation & Fertigation
To ensure the efficacy and even distribution to the crop, the insecticide should be injected at a point in the water flow to ensure thorough mixing with the irrigation water and effective delivery, while also occurring continuously and uniformly during the irrigation cycle. Depending on the insecticide being used, the timing of injection will vary. Generally, those pesticides with lower water solubility (e.g., diamides as well as imidacloprid) should be injected toward the beginning of the irrigation cycle to effectively push the compound into the root zone. Pesticides with higher water solubility (e.g., thiamethoxam and dinotefuran) should be injected more toward the middle of the irrigation cycle, as injecting it earlier may increase the risk of leaching it out of the root zone (Ghidiu et al. 2012). Following injection, the irrigation system should be run for enough time to ensure that all insecticides are flushed from the drip line. Ideally, the time period during which injection occurs should be equal to the length of time it takes water to travel from the point of injection to the farthest drip emitter in the field.
---
Conclusions
The many benefits of chemigation for managing insect pests in vegetables outweigh the drawbacks and initial investment expenditures to make it a reliable and cost-effective pest management option. More insecticide options will become available, and costs will decrease as patents expire for a number of diamides and other systemic insecticides. Chemigation offers growers the potential to manage insect pests of fruiting vegetables and other crops with improved pest control, cost savings, and protection of consumers, farmworkers, and the environment.
---
Drip Chemigation Recommendations for Fruiting Vegetables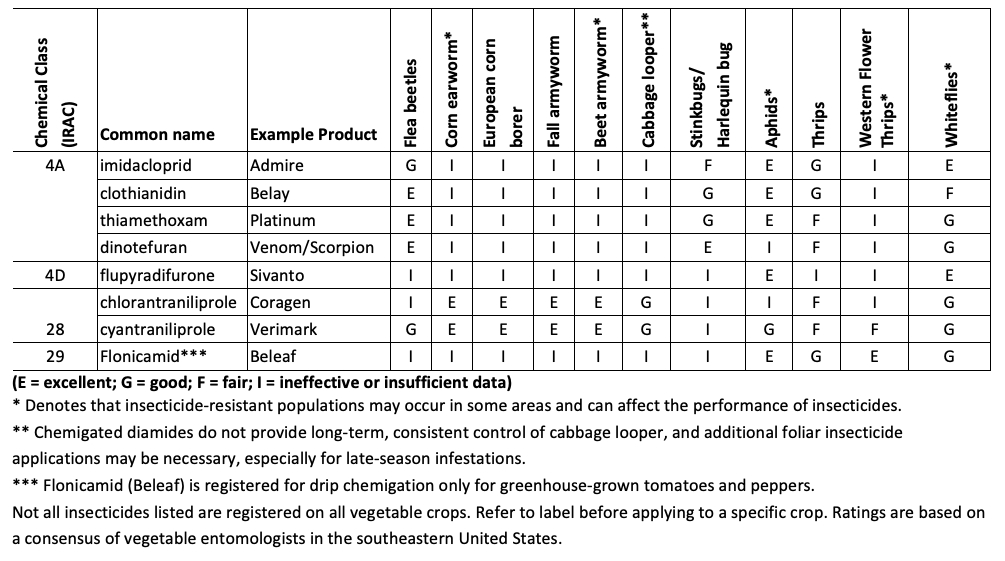 Drip Chemigation Recommendations for Cucurbits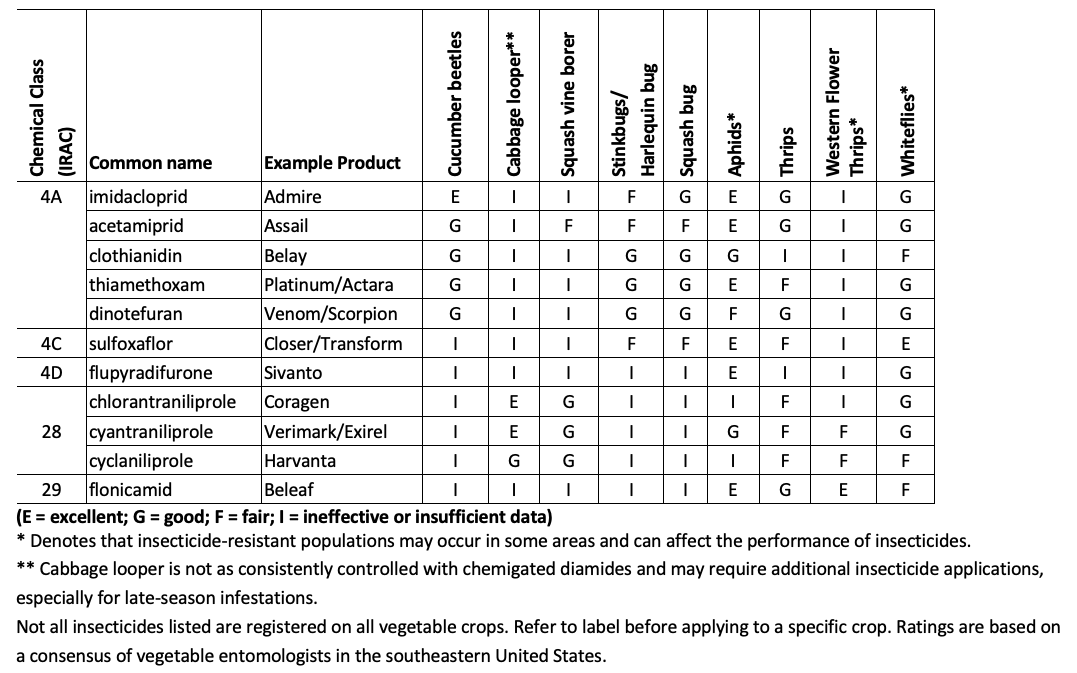 Recommended Timeline for Drip Chemigation in Fruiting Vegetables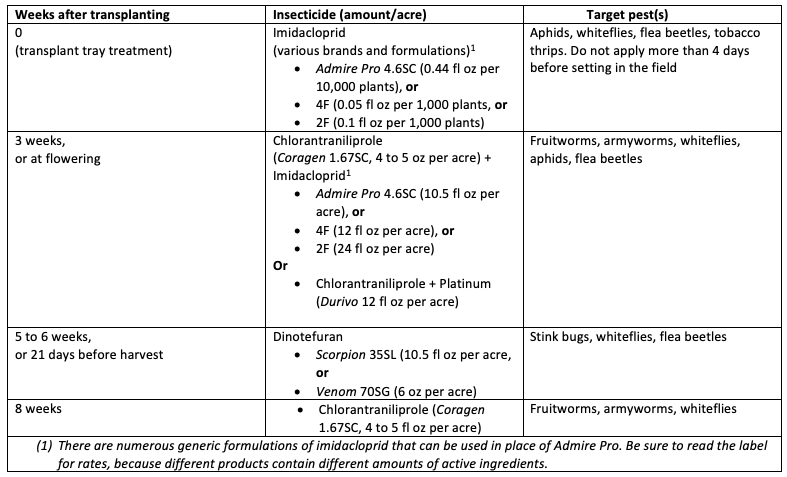 Recommended Timeline for Drip Chemigation in Cucurbits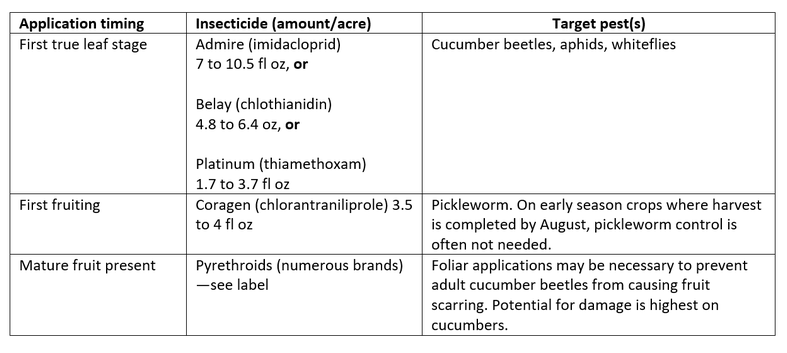 ---
Additional Resources
---
References
For specific examples of successfully chemigated diamides, see: Palumbo 2008, Kuhar et al. 2008, 2010, Ghidiu et al. 2009, Schuster et al. 2009, Walgenbach and Schoof, 2009, 2011, 2017, Walgenbach et al. unpublished.
For specific examples of successfully chemigated neonicotinoids, see: Kerns and Palumbo 1995, Palumbo 1997, Palumbo et al. 2001, Kuhar and Speese 2002, Edelson and Otieno 2003, Walgenbach and Schoof 2009, 2010, 2011, 2015 2017, Aigner et al. 2015, Walgenbach et al. unpublished.
Aigner, J. D., Walgenbach, J. F., and T. P. Kuhar. 2015. Toxicities of neonicotinoid insecticides for systemic control of brown marmorated stink bug (Hemiptera: Pentatomidae) in fruiting vegetables. J. Agric. Urban Entomol. 31: 70-80.
Dively, G. P. and A. Kamel. 2012. Insecticide residues in pollen and nectar of cucurbit crop and their potential exposure to pollinators. J. Agric. Food Chem. 60: 4449-4456.
Edelson, J. V., and O. Otieno. 2003. Greenhouse bioassays of systemic insecticides to control squash bug, 2001. Arthropod Manag. Tests 28.
Ghidiu, G. M., D. L. Ward, and G. S. Rogers. 2009. Control of European corn borer in bell peppers with chlorantraniliprole applied through a drip irrigation system. Int. J. Veg. Sci. 15: 193–201.
Ghidiu, G., Kuhar, T., Palumbo, J., Schuster, D., 2012. Drip chemigation of insecticides as a pest management tool in vegetable production. J. Integr. Pest Manag. 3: 1-5.
Jiang, H., Tian, Y., Yan, W., Chen, J., Zhang, Z., and X. Hanhong. 2020. Drip chemigation of flonicamid effectively controls cotton aphid (Aphis gossypi) and is benign to lady beetle (Coccinella septempunctata) and lacewing larva (Chrysoperla sinica). Crop Protection 129: in press.
Kerns, D. L., and J. C. Palumbo. 1995. Using Admire on desert vegetable crops. IPM Series No. 5, University of Arizona Cooperative Extension Publication No. 195017.
Kuhar, T. P., and J. Speese. 2002. Evaluation of drip line injected and foliar insecticides for controlling cucumber beetle in melons, 2001. Arthropod Manag. Tests 27: E46.
Kuhar, T. P., Walgenbach, J. F., and Doughty, H. B. 2010. Control of Helicoverpa zea in tomatoes with chlorantraniliprole applied through drip chemigation. Online. Plant Health Progress doi:10.1094/PHP-2009-0407-01-RS.
Kuhar, T. P., H. Doughty, E. Hitchner, and M. Cassell. 2008. Evaluation of insecticide treatments for the control of lepidopteran pests in bell peppers in Virginia, 2007. Arthropod Manag. Tests 33: E7.
Palumbo, J. C. 1997. Evaluation of aphid control in lettuce with Admire applied through drip irrigation. Arthropod Manag. Tests 22: 61E.
Palumbo, J. C. 2008. Systemic efficacy of Coragen applied through drip irrigation on romaine lettuce, fall 2007. Arthropod Manag. Tests 33: E24.
Palumbo, J. C., C. H. Mullis, F. J. Reyes, A. Amaya, L. Ledesma, and L. Carey. 2001. Neonicotinoids and azadirachtin in lettuce: comparison of application methods for control of lettuce aphids. In D. N. Byrne and P. Baciewicz (eds.), 2001 Vegetable Report, University of Arizona, Publication No. 1252.
Ristaino, J. B., and S. A. Johnston. 1999. Ecologically based approaches to management of Phytopthera blight on bell peppers. Plant Disease 83: 1080 –1089.
Schuster, D. J., A. Shurtleff, and S. Kalb. 2009. Management of armyworms and leafminers on fresh market tomatoes, fall 2007. Arthropod Manag. Tests 34: E79.
Van Timmeren, S., Wise, J.C., Isaacs, R., 2012. Soil application of neonicotinoid insecticides for control of insect pests in wine grape vineyards. Pest Manag. Sci. 68: 537-542.
Walgenbach, J.W. and S.C. Schoof. 2010. Tomato chemigation study, 2009. Arthropod Manag. Tests 35: E44 doi: 10.4182/amt.2010.E44
Walgenbach, J.W. and S.C. Schoof. 2011. Tomato chemigation study, 2010. Arthropod Manag. Tests 36: E90 doi: 10.4182/amt.2011.E90
Walgenbach, J.W. and S.C. Schoof. 2015. Chemigation – Applied Neonicotinoids for stink bug control on tomatoes, 2014. Arthropod Manag. Tests 40: E67.
Walgenbach, J.W. and S.C. Schoof. 2009. Tomato chemigation study, 2008. Arthropod Manag. Tests 34: E88 doi: 10.4182/amt.2009.E88
Walgenbach, J.W. and S.C. Schoof. 2011. Pepper chemigation study, 2010 Arthropod Manag. Tests 36: E58 doi: 10.4182/amt.2011.E58
Walgenbach, J.W. and S.C. Schoof. 2017. Drip chemigation of diamides and neonicotinoids in tomato, 2015. Arthropod Manag. Tests 42: doi: 10.1093/amt/tsx052
Walgenbach, J. W., Bilbo, T. R., Ogburn, E. O, and D. A. Tussey. Chemigation vs. foliar insecticide use: Management of lepidopteran larvae and stink bugs in North Carolina field tomatoes with environmental and farmworker benefits. Unpublished.