The Buzz on Mosquitoes
Find this article at:
go.ncsu.edu/readext?414607
en Español

El inglés es el idioma de control de esta página. En la medida en que haya algún conflicto entre la traducción al inglés y la traducción, el inglés prevalece.

Al hacer clic en el enlace de traducción se activa un servicio de traducción gratuito para convertir la página al español. Al igual que con cualquier traducción por Internet, la conversión no es sensible al contexto y puede que no traduzca el texto en su significado original. NC State Extension no garantiza la exactitud del texto traducido. Por favor, tenga en cuenta que algunas aplicaciones y/o servicios pueden no funcionar como se espera cuando se traducen.

English is the controlling language of this page. To the extent there is any conflict between the English text and the translation, English controls.

Clicking on the translation link activates a free translation service to convert the page to Spanish. As with any Internet translation, the conversion is not context-sensitive and may not translate the text to its original meaning. NC State Extension does not guarantee the accuracy of the translated text. Please note that some applications and/or services may not function as expected when translated.

Collapse ▲
[Note:  This post has been adapted from a post we wrote for the NC Urban Pests Blog site]
As of June 8th, the CDC had reported 691 cases of Zika virus across the U.S., an increase of nearly 12% over the June 1st report. Once again, New York and Florida led the nation with 164 and 132 cases, respectively. North Carolina was #14 remaining unchanged with 11 cases (previously reported incorrectly as 12 cases). What's important to realize is that ALL of these cases (here and nationally) were travel-related (i.e., none were locally transmitted). This isn't meant to downplay the significant impact that this disease has on infected individuals (and their families), but rather to make people understand that controlling mosquitoes now will not prevent you from getting Zika virus later because the virus isn't here. However, controlling mosquitoes now does help reduce the nuisance biting and the risk of other "resident" diseases such as West Nile virus, eastern equine encephalitis and LaCrosse encephalitis which show up in low numbers in our state nearly every year.
Many people think that mosquito control means spraying pesticides outdoors. While pesticides are a valuable tool when used properly, we can actually have far greater and long-term impact on mosquito populations before we spray anything if we use an integrated mosquito management approach.
Start with some common sense ideas such as – keeping mosquitoes out of our houses is extremely important and also easier for those of us who have air conditioning and can simply keep our homes closed up. Unfortunately, there are many people who do not have air conditioning and must keep their windows and doors open in order to circulate some fresh (and hopefully cooler) air through their house. In those situations, it's important to keep window and door screens in good condition and fitting properly to keep out mosquitoes and other flying pests.
Across North Carolina, our most common mosquito species is the Asian tiger mosquito (ATM), Aedes albopictus. This is a species that feeds during the daytime when we're out working and/or playing (but it will feed "dawn to dusk"). If we really want to put a dent in the mosquito populations around our homes and communities, then we need to focus on source reduction which simply means "tip and toss". The idea is to disrupt and (preferably) to eliminate the many breeding sites that often exist around our homes and are quite likely the result of our own activities (or inactivity). Most importantly, "tip & toss" needs to be a community-wide effort:
An unpublished study in the 1980s led by Dr. Charles Apperson (professor emeritus in NCSU's Entomology Department) looked at where Asian tiger mosquito were breeding in typical residential settings in New Hanover county. Here's what they found:
Containers used as breeding sites by Asian tiger mosquitoes
Source
No. Positive
Total Examined
Percent Positive
Miscellaneous containers
92
148
62.2%
Buckets
24
39
61.5%
Plant dishes
33
48
68.8%
Tree holes
7
8
85.5%
Plastic film (tarps)
8
11
72.7%
Bird baths
8
27
29.6%
Tires
11
20
55.0%
Toys
8
14
57.1%
Quite obviously – in the war against the Asian tiger mosquito, we are often our own worst enemy. Here's where we need to turn our attention to source reduction to reduce mosquito populations and reduce the likelihood of mosquito-borne diseases:
Bird baths – clean them out periodically and  flush them out routinely with a garden hose. You'll flush out the mosquito "wrigglers" or larvae (the immature stage) in the process. Plus, the birds will appreciate the fresh water. Make sure you do the same with the outdoor water bowls for your pets. Horse and livestock owners that have water troughs near stalls or out in pastures can also use products such as "Mosquito Dunks®" which contain the bacteria Bacillus thuringiensis israelensis which kill mosquito larvae (but not adult mosquitoes) and a few fly species while not posing a hazard to the animals that use the troughs as their drinking water.
Cans and other containers – NOW is the time to empty them and properly dispose of that collection of old paint cans and other containers. Take them to your municipal recycling center (if suitable) or to a designated landfill. Improperly/illegally discarded items such as cans, appliances, tires, etc. can become  a serious problem both for the environment and in terms of mosquitoes.
Plastic tarps that cover your boat, pool, grill, firewood, etc. can collect pockets of rain water that can remain (and stagnate) for several weeks.
Swimming pools and kids' wading pools that are not used or maintained are probably being used by the mosquitoes (and maybe some toads) – empty and overturn them (and make sure that the pool water drains from the area). This idea applies equally to poorly maintained in-ground and large above-ground pools (e.g., pools on abandoned or foreclosed properties). Here's a picture of a poorly-maintained tarp-covered pool that is collecting stagnant water filled with algae, dead leaves and Asian tiger mosquito larvae.

Gutters – Remove all of the leaves and other debris that build up in your gutters. The impounded water and decaying material attract mosquitoes and can also lead to structural problems with wood-decay in the roof and fascia boards and create conditions conducive to problems with wood-damaging pests such as termites and carpenter ants.
Rain barrels –  They're a great way to conserve water resources by collecting rainwater from your roof's downspouts. However, they can also unintentionally become a great way to raise mosquitoes. Commercial versions of these barrels are equipped with screens (as seen in the picture to the right) which  keep out trash and prevent female mosquitoes from laying eggs on the water or interior sides of the barrel. If you decide to make your own rainwater collector using an old barrel, then be sure to place window screening over the top.
Downspout drain pipes  – The concept is simple – channel rainwater so that it drains away from your house and doesn't pool up against your foundation. Also, if you install those black plastic drainage pipes to the downspout, remember the laws of gravity – water isn't going to flow uphill. Make sure the pipe is placed on a grade so that the water drains out and away. Here's a picture of a plastic pipe on the back side of a restaurant in Raleigh where even a slight upturn in the pipe causes water to pool and stagnate inside it. This is another ideal habitat where Asian tiger mosquito can breed and dine on the dining patrons.. (My thanks to Randy Buchanan with the Henrico Co. (VA) DPWEES Standing Water Initiative for mentioning this common problem to me).
Trash, trash cans and tires – make sure trash cans have tight-fitting lids which will also keep out pests such as rats and raccoon which can damage trash bags creating more problems. . Discard or at least cover old tires (but don't let water pool in the plastic cover either!). If you use tires to make a swing for your kids, be sure to drill holes through the bottom of the tires so rain water drains out quickly.
Drainage ditches
– they're meant to collect storm water that runs off roads and and yards temporarily. Over time, they also collect soil and debris from storms, erosion and mowing. Keep them free of debris so that water flows and has time to filter into the soil. In the picture to the right from Hurricane Fran (1996), storm and other debris had created a dam at the end of the culvert running under the driveway (arrow). This caused the ditch to become mosquito-infested in just a matter of days.
Tree holes – when limbs fall off trees, the remaining hole in the trunk can collect water. Flush out the tree hole and fill the hole with expandable foam (not concrete).
Outdoor flower pots – empty the water from the dishes/trays underneath them. Your plants have plenty of water without the overflow. Overwatering plants can also lead to problems with root rot and fungus gnat problems in the plant soil.
Personal Protection
The majority of mosquito-borne disease incidences, whether they're human or otherwise, are due to a lack of personal protection. Horse owners need to spend the time and money to get their horses vaccinated against mosquito-borne diseases such as eastern equine encephalitis. For us two-legged creatures, we simply need to take precautions when we're outdoors for work or recreation. With infants, it's a good idea to use netting on cribs, strollers, and carriages when you're outdoors. For older children and adults, if it's too uncomfortable to wear long-sleeved shirts and long pants, then apply insect repellent to your clothing and/or exposed areas of your skin (never under clothing). DEET is the most commonly used repellent but there are several other effective products. Not all repellents provide protection for the same length of time. Choose a product that fits your needs and preference. Use repellents carefully, particularly on children. Some repellents are not intended for infants and reduced concentrations are often recommended for children under the age of 12 years old. Never allow children to apply repellents to themselves or to other children. Spray the chemical on your hands and then rub it onto their legs, arms and neck.
For more information on mosquito repellents, visit these sites:
Chemical Control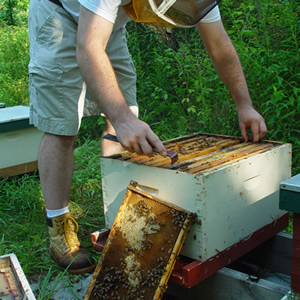 There are many products available if you decide to treat your property to kill adult mosquitoes. Please keep in mind that chemical doesn't always land where you direct your spray particularly with windy conditions. Look before you spray and communicate with your neighbors about your plans to spray because not everyone wants pesticides drifting into their yard. Make sure you know what's on the other side of your shrubs. Read the pesticide label before you spray. Never treat where children or pets are found and keep them away from treated areas until the chemical has dried on surfaces (or longer if the product label specifies a time). Many products contain pyrethroid insecticides (look at the list of "active ingredients" on the front panel of the product label. Many of these products cannot be applied to edible plants. So, it is important to be very careful when spraying near vegetable or herb gardens or fruiting trees. Most of these same chemicals are highly toxic to bees and have restrictions on applying them to flowering plants or else restrict their use to when pollinators are not actively visiting flowers. If you're neighbor has bee hives in his/her backyard, you should talk to them first and make sure chemical doesn't drift into their backyard and potentially harm the bees.
I've had people call me to ask about these pesticides because they've been told by the company that they're using "the same chemical found in chrysanthemums". That statement is true if the company is using pyrethrum or "pyrethrins" but is NOT accurate if they're applying something like bifenthrin or permethrin which are synthetic and chemically altered versions of the pyrethrin molecules ("pyrethroids"). My advice is that before you have your yard treated by anyone, always ask to see a copy of the product's label and safety data sheet so that you know exactly what is being applied in your yard and if it's being applied according to directions.
Natural Control of Mosquitoes 
Not everyone shares my love of bats (the fut-covered flying type, not the wooden ones used to hit a baseball). Some people will put up bat boxes in the yard with the notion that the bats will eat the mosquitoes. While bats do eat mosquitoes, they are "generalists" which simply means they  also eat a lot of other flying insects as well. More importantly, keep in mind that public enemy mosquito #1 in most cases is the Asian tiger mosquito which is active during the day whereas bats are active at dusk/night. There are birds (such as purple martins) that also eat mosquitoes but they too have a diverse diet. So, support our local birds and bats but don't count on them to solver your mosquito problem.
FINALLY  – remember that mosquitoes have no concept of property lines. Even though species such as the Asian tiger mosquito typically fly just short distances (usually less than 100 yards),  the object of the female's attention is a blood meal whether it's in your neighbor's yard or your yard. Mosquito management does work BUT it requires a concerted community effort to be truly effective. You've heard the expression "It takes a village". With mosquitoes, it takes just one uncooperative "village idiot" to make your collective efforts fail.
We have more information on mosquito control at http://insects.ncsu.edu/Urban/mosquito.htm.
---
Note:
Any recommendations for the use of chemicals are included solely as a convenience to the reader and do not imply that insecticides are necessarily the sole or most appropriate method of control. Any mention of brand names does not imply endorsements by me or by North Carolina Cooperative Extension or NC State University nor does it imply discrimination against similar products or services. Individuals who use chemicals are responsible for using these products according to the regulations in their state and to the guidelines on the product label. What that really means is simply don't be an idiot when you use pesticides. Before applying any chemical, read the product label carefully.