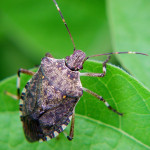 The brown marmorated stink bug (BMSB, Halyomorpha halys) is an invasive pest that was accidentally introduced from Asia into Pennsylvania in the 1990s. Its first detection in North Carolina was in Forsyth County in 2009, and it has since spread rapidly throughout the piedmont and mountain regions of the state. The coastal plain has had fewer occurrences during this period, although the insect has appeared in isolated locations. As of March 2015, it had been reported in 69 of NC's 100 counties.
BMSB in North Carolina Fact Sheet
Although BMSB can become an incredibly destructive pest that feeds on a wide variety of crops, it usually establishes itself first in urban landscapes, roadside vegetation, and structures that provide attractive overwintering sites. This has been the case in North Carolina, with most early reports coming from property owners in urban areas between Raleigh and Asheville (the I-40 corridor) who have experienced BMSB "invasions" in late summer. Sightings in home gardens and on commercial farms have increased from extremely isolated reports in 2010 to widespread occurrences in 2014. In general, the pest has not yet caused the extensive agricultural problems experienced in the mid-Atlantic states, but it is on track to reach similar levels as local populations become further established.
For information on combating BMSB populations in structures and home gardens, see the FAQ page.
---
---
Life cycle in North Carolina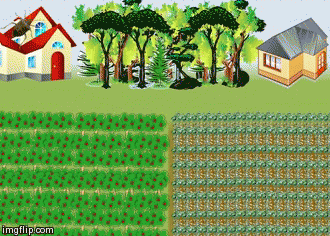 Brown marmorated stink bugs overwinter as adults in man-made structures, standing dead trees, and other sheltered places. In April and May, these adults leave the protected areas and move into nearby woods where they mate and lay eggs on suitable host plants. By June or July the eggs have hatched and 1st-generation BMSB nymphs and adults begin entering nearby agricultural fields, generally preferring fruits and vegetables early in the summer and moving to soybeans later in the season. Under ideal conditions (warm temperatures and favorable hosts), a second generation of adults may be produced. As days become shorter in early August, adult BMSB cease laying eggs. In September, adults begin to disperse to overwintering sites, including homes and other structures, and by early October most individuals have entered their overwintering site. The month of September, when adults are aggregating on homes, is usually when invasions to new areas are first observed.
---
What's being done?
NC State University is part of a collaboration of over 50 scientists in the eastern US working on the biology and management of BMSB. An excellent source for the latest developments is StopBMSB.org, which compiles information from all regions that have been affected by the pest.
In North Carolina, research has focused on the following areas: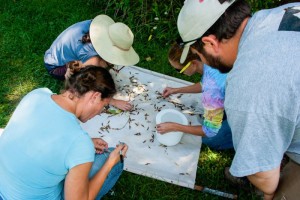 Identifying non-crop host plants. The BMSB has been observed on an enormous variety of plant species in both natural and managed landscapes, but it clearly prefers some species over others. By recording the number of individual BMSBs occurring on each species at certain locations over three growing seasons, we have developed a better understanding of what plants the BMSB requires to establish itself. Click here for a list of the top hosts.
Developing monitoring systems. As part of a coordinated study involving researchers from several eastern states, and led by USDA-ARS, we have compared different trap types and pheromone lures in order to determine the most effective combinations for use in agricultural fields and other outdoor settings. The improved traps and lures will be used in conjunction with scouting and damage data to detect movement of BMSB into new habitats and to develop models that can be used to predict population biology and population densities in agricultural crops  – a crucial component of Integrated Pest Management (IPM).
Voltinism. Studies following identical protocols in different climatic regions of the eastern US (NC, NY, NJ, and WV) are being used to better understand factors that affect the number of generations produced per year (i.e., voltinism) under different environmental conditions. Known host plants are placed inside large outdoor cages and infested with BMSB adults in early summer. Plants are then examined regularly to record the dates of first egg-laying, egg hatch, nymph-to-adult development, and egg-laying by 1st-generation adults. Additionally, wild-caught BMSB adult females are being dissected to determine changes in their reproductive status throughout the season. Continued voltinism research will be essential in creating models that can reliably predict the extent and development of BMSB populations under specific regional conditions.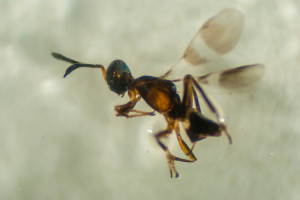 Discovering native predators and parasitoids. Stink bugs that are native to North America do not cause nearly the damage of BMSB, because their populations are kept in check by a diversity of natural enemies. Studies are being conducted to determine the impact of native predators and parasites on BMSB populations in different habitats, including agricultural crops, woodlands and other non-managed landscapes.  Over time this research will help assess the impact of natural enemies on BMSB in different habitats, and what can be done to enhance their activity in different settings.  It is hoped that such natural enemies will become a significant tool in the reduction of BMSB populations as an alternative to conventional routine insecticide applications.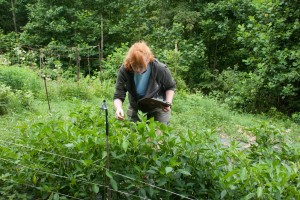 BMSB in organic agriculture. Managing BMSB in organic production systems is especially difficult due to the limited number of pesticides available to organic growers. However, NC State is cooperating with researchers and organic growers across the Mid-Atlantic region to help devise strategies to minimize stink bug damage. A diversity of approaches are being tested, and in NC our work revolves around evaluating organic insecticides, assessing the impact of biological control by native parasitoids and predators, and using trap crops (including sunflower and sorghum) to protect vegetables.  Visit the project's website at eOrganic.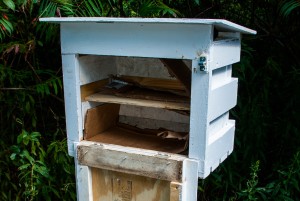 Overwintering habits. Everyone knows that BMSB overwinter in houses and other structures, but we do not understand all of the cues that stimulate them to enter and leave those sites. BMSB "homes" are being used to monitor movement into and out of overwintering sites to help determine how temperature and daylength affect the behavior of BMSB.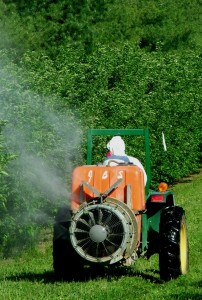 Chemical control options.  Due to the sheer numbers of BMSB and the apparent limited role of native parasites in regulating BMSB populations on crops, insecticides are the best short-term option for preventing damage in crops and gardens.  Research has focused on evaluating the toxicity of different insecticides against BMSB and the impact of these chemicals on biological control agents.  BMSB has proven to be inherently tolerant to a wide group of chemicals, with several different neonicotinoid and pyrethroid insecticides being most effective.  A list of insecticides to control BMSB in fruit and vegetables can be found in the BMSB chemical recommendations table.
---
Report a sighting
Since 2011, NC State University has been collecting information about BMSB occurrences through an online survey. If you live in NC and have seen BMSB, please complete the survey here.
---
News and updates
Section 18 Approved for Bifenthrin on Apples, Peaches, and Nectarines for Control of Brown Marmorated Stink Bug in NC (7/7/2014)
Section 18 Approved for Dinotefuran on Apples, Peaches, and Nectarines for Control of Brown Marmorated Stink Bug in NC (6/17/2014)
---
Frequently asked questions
Click here for the most common concerns.
---
BMSB links
---
Visit our lab on the web
The bulk of BMSB research in NC is conducted by the Walgenbach Lab at the Mountain Horticultural Crops Research and Extension Center in Mills River.